Imagine Marketing, BoAt's parent firm, has filed preliminary documents with SEBI to earn Rs 2,000 crore through an initial public offering (IPO). The public offering comprises a new issue of equity shares worth up to Rs 900 crore and an offer for sale worth up to Rs 1,100 crore. Aman Gupta and Sameer Mehta, co-founders of boAt, will sell shares worth Rs 150 crore, while South Lake Investment Ltd. will sell shares worth Rs 800 crore. The book-running lead managers are Axis Capital Limited, BofA Securities India Limited, Credit Suisse Securities (India) Private Limited, and ICICI Securities.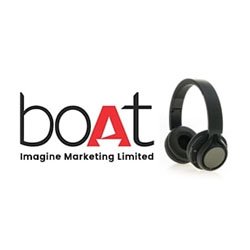 In terms of revenue from operations for FY21, Imagine Marketing is one of the largest Indian digital-first brands. The company provides a diverse range of high-quality, aspirational lifestyle-focused consumer products at reasonable prices. The company was created in 2013, and its flagship brand, BoAt," debuted in 2014. The company benefits from collaborations and relationships with industry participants such as Qualcomm Bharat FIH Ltd., Google, Dolby International AB, Dolby Laboratories Licencing
Corporation, Airoha Technology Corp., and Realtek Semiconductor Corp. and integrates components and technology developed by them in its products, allowing it to offer a diverse range of high-quality, aspirational lifestyle-focused consumer products at affordable prices. The company has a wide group of manufacturers and product developers throughout China, Vietnam, and India and has entered into exclusive partnerships with a number of them to manufacture items utilizing the company's design criteria and standards.
The products offered across a variety of price points and customer segments across multiple product categories include
Audio (wired headphones and earphones, wireless headphones and earphones (neckbands), true wireless stereo ("TWS"), Bluetooth speakers, home theatre systems and sound bars),
Wearables (smartwatches),
Gaming accessories (wired and wireless headsets, mouse and keyboards),
Personal care appliances (trimmers and grooming kits) and
Mobile accessories (chargers, cables, power banks and other accessories)
In addition, in terms of volume, the company commands a market share of 48% and 23%, respectively, in the wireless wearables and smartwatch segments, which has consistently increased over time, and it has a market share of 30% and 13% by value, respectively, in the branded wireless wearables and smartwatch markets.
Imagine Marketing Limited IPO Financials
| Particulars | FY21 | FY20 | FY19 |
| --- | --- | --- | --- |
| Revenue From Operation | 13,137.16 | 6,091.07 | 2,258.49 |
| EBITDA | 1,332.95 | 759.39 | 141.40 |
| EBITDA Margin (%) | 10.15 | 12.47 | 6.26 |
| Profit After Tax | 865.37 | 477.9 | 80.3 |
| EPS | 7.97 | 4.42 | 0.79 |
| ROE | – | – | – |
Imagine Marketing IPO Key Points
Strengths:
One of the largest Indian digital-first brands with leading market positions across multiple fast-growing product categories
The flagship brand "boAt" is a consumer brand with strong market positioning and a clear value proposition
The digital-first platform capabilities are targeted to enable growth and continue to allow it to build a presence across multiple consumer categories
Risks:
Success depends on the strength of flagship "BoAt" brand and other brands, as well as the need to maintain and develop its brands
Failure to successfully identify and respond to changing customer preferences and market developments in a cost-effective and timely manner
Failure to compete successfully against existing or new competitors may reduce demand for the products and services, which may lead to reduced prices
Relies on a number of third-party contract manufacturers and component suppliers for production of the products
Subject to risks associated with overseas procurement, such as geographical concentration and foreign currency exchange risks,
It is heavily reliant on its relationships with certain online marketplaces and offline distributors; hence, any disruptions could adversely affect the business
Imagine Marketing IPO FAQs :
Q1. What is Imagine Marketing IPO ?
Ans. Imagine Marketing IPO consists of new shares worth Rs 900 crores and OFS Rs 1100 crore.
Q2. When will Imagine Marketing IPO allotment be available?
Ans. Details not available.
Q3. What will be Imagine Marketing IPO lot size?
Ans. Details not available.
Q4. When will Imagine Marketing IPO open for subscription?
Ans. Details not available.
Q5. What minimum lot size can retail investors subscribe to?
Ans. Retail investors can apply for a minimum of one lot.
Q6. When will Imagine Marketing list on exchanges?
Ans. It usually takes ten working days from the last day of subscription to list the IPO on the bourses.
Q7. What would be the listing gains on Imagine Marketing IPO?
Ans. Listing gain is the difference between the IPO's opening and offer prices.
The listing gain is a result of shifts in investors' interest, global parameters, and short vs long term outlooks.
Q8. I have finished the application process for Imagine Marketing IPO, but the funds are not yet debited. What is the reason?
Ans. The bank only blocks the amount when you bid for an IPO. It will debit the amount when shares are allotted to you or unblock it after the UPI mandate expiry date.
Q9. Can I alter my bid for Imagine Marketing IPO after confirming its final application?
Ans. It is possible to change the price or the lot size using the changing/revising form available with the application. But it could be a challenge to complete the process within the time given.
Q10. Can I submit more than one application for the public issue of Imagine Marketing using one PAN?
Ans. No. Only one application at a time is allowed against one PAN card.
Q11. Who is the owner of Imagine Marketing?
Ans. Aman Gupta is a founder member of Imagine Marketing.