RVNL has shown massive growth in the Railway Industry and has actively undertaken new and exciting projects.
RVNL Full Form In Railway
Rail Vikas Nigam Limited Is a PSU (Public Sector Undertaking) Of The Indian Government. The Company Implements Railway Projects Of The Government.
RVNL Awarded Tenders
Ongoing Tenders are as follows:
➢ Construction, Fabrication, Assembly, Erection and Launching of fobs at Krta ( BIHAR )
➢ Construction of Nabadiganta (Technopolis) Metro Stations ( WEST BENGAL )
➢ Electrification of New Service Building at Titlagarh Railway Station and 12 Nos ( ANDHRA PRADESH )
➢ Design, Supply, Erection, Testing & Commissioning of 25 Kv 50 Hz Ac Single Phase (Approx. 5 Tkm) ( RAJASTHAN )
➢ Protection of Side Slopes of Formations having High Banks and Deep Cutting ( ANDHRA PRADESH )
➢ Execution of Civil Works Like Vacuum Dewatering Concrete Works for Platform Surfaces ( ANDHRA PRADESH )
➢ Supply and Installation of Machinery Including Associated Software and Hardware ( TAMIL NADU )
➢ Design Supply, Testing and Commissioning of Signalling and Tele-Communication Works ( ANDHRA PRADESH )
➢ Design, Supply, Erection, Testing and Commissioning of 132 Kv Transmission Line Crossing ( MAHARASHTRA )
ONE BILLION NINE HUNDRED SIXTY MILLION TWO HUNDRED EIGHTY-SEVEN THOUSAND NINE HUNDRED TWELVE RUPEES ( 1, 960, 287, 912 ) IS THE TOTAL VALUE OF PROJECTS UNDER RVNL RIGHT NOW.
RVNL Projects
The Main Work Undertaken By The Company Is The Financing And Implementation Of Railway Projects.
Completed Projects
Here Are The Latest Projects Completed By The Company:
• Indian Railways Institute of Financial Management
• Vallarpadam –Idapally longest rail Bridge
• Obulavaripalli- Krishnapatnam Project
• Jakhapura- Haridaspur 3rd Line
• Cuttack – Barang Doubling
• Rajatgarh-Barang Doubling
Upcoming Projects
These Are The Projects In Progress:
• Raipur-Titlagarh (203 km)
• Manamadurai-Rameswaram Lift Span
• Rishikesh-Karnaprayag New line
• Dhanbad-Sonnagar (291 km)
• Mathura-Jhansi 3rd line
• Lucknow-Pilibhit GC (262.76 km)
RVNL Is Government Or Private?
It's A PSU ( Public Sector Undertaking ), Meaning The Government Owns Most of The Company's shares. In June 2023 Government-Owned 78.2% Stakes In The Company.
PSU Is A Entity, Company Owned By The Government.
RVNL Is A Government Company.
RVNL Share Price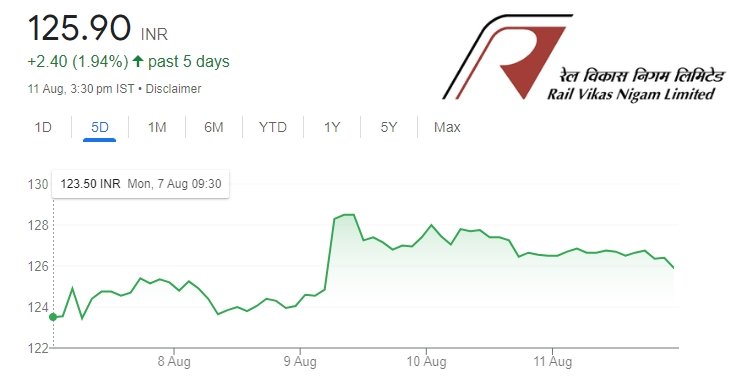 Within Three Years, The Stock Has Climbed 332%.
Reason For The Sudden Jump Were The Numerous Big Projects Undertaken By The Company,
• Patratu-Sonnagar Doubling Project ( 291 Km Long Railway Line )
• Kharagpur (Nimpura)-Adityapur 3rd Line Project ( 132 Km Long Railway Line )
• Obulavaripalle-Venkatachalam Railway Line ( 61 Km Long Railway Line )
On July 24, 2023, It Hit A 52-Week-High Of Rs 146.
RVNL Future
The Reason For The Company's Growth Is The Huge Government Investment, In Redesigning Indian Railway Systems.
All The New Tenders Are Given To The Company.
Not Only RVNL But Other Railway Companies Like IRFC, IRCTC, Ircon, RailTel And Rites Have Benefited And Shown Growth Too.
The Main Reason For The Growth Is The Government Funding And Backup.
One Major Competition To Government Railway Companies Could Be A Private Sector Company Showing Up And Offering A More Budget Friendly Proposition For The Same Deal.
One Such Company Could Be Adani. Read Our Blog On How Adani Made A Comeback.